Getting your chickens the best chicken coop fan is something you may not have thought about before. After all, chicken coops don't typically come with ventilators, and chicken owners don't generally think to add one themselves.
However, chicken coops can get incredibly hot, especially in summer. Chickens can die from heat stroke, so it's important to ensure that their living quarters are well-ventilated.
Here's what you need to know about chicken coop fans and how to choose the best one for your pen.
Why Should You Put a Fan in A Chicken Coop?
Putting a fan in poultry coops has a few benefits. For one, it can help to circulate the air and ventilate the chicken coop. Air in a coop can become stuffy and smelly, so good ventilation helps keep the air fresh. A fan can also help to cool down the place in hot weather. It is easy for chickens to overheat, so a fan can help to keep them cool and comfortable.
Best Fan for a Poultry Coop Reviews
If you are trying to find the best poultry coop fan, here are a few of our top picks.
1. iLIVING 10″ Wall Mounted Shutter Exhaust Fan, Automatic Shutter, with Thermostat and Variable Speed
With the iLIVING Shutter Exhaust Fan, you can remove excess heat, moisture, and unpleasant odors from any enclosed commercial location, such as chicken coops. It's a wall-mounted exhaust fan where you can set your desired temperature and have it cycle on/off automatically. It's 10 inches wide and has three-speed settings, so you can adjust the airflow as needed. Installation is just a matter of hardwiring the fan after assembling.
Features
10″ wall-mounted exhaust fan to keep air circulating in your chicken pen
3-speed settings
The built-in shutter opens and closes as the fan runs
A corrosion-resistant wire guard that's OSHA-compliant
The frame is galvanized steel, and the shutters and blades are aluminum
The fan runs on 115V, 65 Watts, 0.6 Amp, 1600RPM, 820CFM
2. ZUZZEE 20W Solar Panel Exhaust Fan Kit, IP65 Waterproof Solar Fan Outdoor Ventilator Exhaust Fan for Chicken House
The Zuzzee solar-powered fan is a great option if you're looking for an eco-friendly solar fan to eliminate pet smells and keep the air clean in your chicken coop. It runs on solar power, so it's completely free to operate.
It's also very easy to install – all you need to do is attach the solar panel to the roof and let it do its thing. You can convert sunlight into electricity with 20W outdoor solar panels.

Features:
20-watt solar-powered exhaust fan 950 m³/h exhaust capacity
Waterproof and made from durable materials
Easy to install
Includes USB adapter cable and fan extension cord
3. KEN BROWN 12-Inch Shutter Exhaust Fan Wall Mounted, Aluminum
The KENBROWN 12-inch exhaust fan comes with high-grade aluminum shutters and blades that can withstand moisture and high temperatures, provide longevity and prevent corrosion. It's perfect for removing hot air, moisture, dust, and odors. The power cord kit includes 1.65 meters to simplify ventilation fan installation.
Features
The motor is fully enclosed and permanently lubricated for easy maintenance.
Three rust-proof aluminum blades improve airflow
Weather-resistant aluminum shutter
Guards made of corrosion-resistant wire
Shutters that operate automatically in tandem with the fan
4. SUN ENERGISE Solar Powered Fan Pro, 20W Solar Panel + 8 Inch High-Speed Exhaust Fan
The SUN ENERGISE Solar-powered Fan Pro is great for improving air circulation and reducing indoor temperature. It comes with a 20W solar panel and an 8-inch high-speed exhaust fan. It's easy to install and effective in your chicken coops. Even on cloudy days, the solar panel can power a high-speed fan. This product is very useful, practical, safe, and reliable. It uses solar energy to run the fan, so it doesn't need main power. No extra wiring means no extra cost.
Features
This solar fan quickly ventilates excess heat, moisture, dust, and odors with dual ball bearings.
8in diameter, 480CFM air flow, 2600RPM speed, 36dB noise, DC 12V voltage.
A double plastic net protects the solar panel fan from small animals.
Automatic shrink valves keep wind and rain out.
Manually control the ventilation fan power with the solar fan's on/off switch.
5. Allto Solar Waterproof Solar Powered Fan Kit Pro, 15W Solar Panel + 2 Pcs High-Speed DC Brushless Fan for Chicken Coop
The Allto Solar Waterproof Solar Powered Fan Kit Pro is one of the best fans for poultry coops. It cools down the pen, removes the heavy smell, and allows fresh air to enter. This heavy-duty outdoor fan features aluminum construction for long-lasting performance in harsh environments. It allows the fan to run at high speed even on cloudy days, using clean energy and conserving energy.
Features
Dual ball bearings provide a life expectancy of 67,000 hours of use.
Shock-resistant aluminum fan.
Double-layer protective nets will prevent blades from being touched
Easy to connect and disconnect
Corrosion-resistant
It can last over ten years.
Not noisy and easy to install without complicated wiring.
Works even when it is not fully sunny out
Waterproof and dustproof
6. Solar Panel Fan Kit, AntPay 10W Weatherproof Dual Fan with 11Ft/3.5m Cable for Small Chicken Coops
This product is an excellent solution for small poultry coops in the hot summer. The 10W Solar Panel Dual Fan Kit effectively reduces indoor temperature by eliminating pet odors that circulate inside your pen. It keeps your air clean and fresh. One advantage of solar panels is their recyclable, green, and clean energy.
Features
Has a double-sided iron net for protection
More than six years of service life
The maximum rotational speed of 3000 r/min and a large airflow of 200 CFM.
The waterproof level can reach IPX7, which is suitable for use outdoors.
7. CoolerGuys 10W Solar Powered Dual Fan Kit for Small Chicken Coops, Greenhouses, Doghouses, Sheds, and Other Enclosures.
This solar fan is a great option for solar-powered ventilators for your coops. It has an updated blade and motor designs that produce 138 cubic feet of air per minute at a noise level of 34 decibels. Essentially, that's the ambient noise of a library. The panel is IP55 rated, and the fan is IP67 rated, so it is submersible in water and dustproof.

Features
Mounting with padded corners reduces vibration noise
Durable dual ball bearings provide a long lifespan of up to 67,000 hours–over seven years.
You can reuse the solar panel for various barrels with a barrel female connector and a native 12v regulator.
Includes a thermal plastic mounting face plate, mounting hardware, and grills.
Types of Ventilation Fans for Chicken Coop
AC powered fans
Ac Powered poultry coop fans are one of the most popular types. They're easy to find and relatively inexpensive. They usually come in two varieties: plug-in or battery-operated.
Plug-in fans basically need an outlet. In contrast, battery-operated fans can run on batteries. Both types of fans are easy to use and can be used to ventilate coops of all sizes.
These rechargeable fans can be portable, so they can be moved around as needed. They're also a good choice if you don't have an outlet near your pen. Choose a fan that's compatible with the size of your coop.
Solar powered fans
Solar fans are a great eco-friendly option. The sun powers them, so they don't require electricity. This factor makes solar-powered fans cost-effective and easy to use. You can move or place the solar fan everywhere. Make sure to place the solar fan in direct sunlight, and it'll do the rest.
DC/USB-powered fans
DC/USB fans are powered by a DC battery or a USB port. They're easy to use and can be placed anywhere in your chicken coop. Just be sure to choose a fan that's compatible with the size of your pen.
What Makes a Good Fan for a Chicken Coop?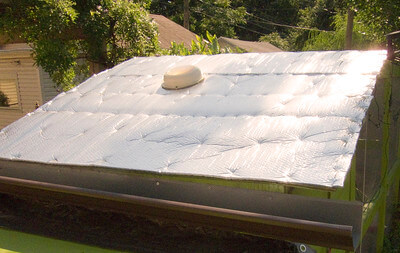 The following are a few things to consider when choosing a fan for a chicken coop.
Size of the Chicken Coop
The size of the chicken coop is one important factor to consider when choosing a fan. You'll need to ensure that the fan you choose is big enough to ventilate the coop adequately. Chicken coops come in all different sizes, so measure the coop before purchasing a fan.
The type of fan you need will depend on the size and shape of your chicken coop. A 2-foot by 2-foot space requires at least an 8-inch diameter, while 10′ x10 ' compounds require either 12″ or more depending if they're wide open spaces that allow plenty of airflow. But smaller ones can get by with just 6″.
Size of flock
Your chickens will also affect the fan you choose for your chicken run. Fans come in different sizes, so be sure to choose one that's appropriate for your poultry run and flock size.
A small chicken coop needs fans that are ideal for its size. Small coops basically hold up to 10 chickens. These fans will be small and compact, so they don't take up too much space. Large coops need more powerful fans to circulate the air in a large chicken coop.
Chicken coop location
Another important factor to consider is the chicken coop location. If you live in a hot climate, you'll need a powerful fan to ventilate the pen properly. On the other hand, if you live in a cold climate, you can get away with a smaller fan.
Ease of installation
Some fans are easier to install than others. If you're not familiar with coop ventilation, you might want to choose a fan that's easy to install. Just follow the instructions carefully, so you don't damage the coop.
Ease of use
You'll also want to consider how easy the fan is to use. Some fans come with a remote so that you can turn them on and off from anywhere in the coop. Others have a timer, so you can set them to turn on and off at specific times.
Price
Poultry coop ventilators range in price from around $30 to $100. The fan you choose will depend on your budget and the features you're looking for.
Type of chicken coop
Another important factor to consider when choosing a fan is your type of chicken coop. Poultry coops come in all different shapes and sizes. The type of coop you have will determine the type of fan you need. Chicken coops can be either open or closed.
Open coops are poultry coops that don't have a roof. It means that they're open to the elements. Open coops need fans specifically designed for chicken coops. These fans will have a screen or grille to keep out pests and predators.
Closed chicken coops have a roof and sides.
It means that they're more protected from the elements. Closed chicken coops need fans with a cover to keep out pests and predators.
Chicken coops can also be either portable or stationary.
Portable coops are chicken coops that you can easily move around. They're typically smaller coops that one person can move. The fans you choose must have a handle or strap so you can carry them without hassle.
On the other hand, stationary chicken coops are chicken coops that aren't movable. They're typically larger chicken coops that need to be anchored down.
Chicken coops can also be either indoor or outdoor chicken coops.
Indoor chicken coops are those inside a building, such as a garage or a shed. Indoor chicken coops need fans with a cord plugged into an outlet.
Outdoor chicken coops are obviously placed outside. A solar panel or battery will give these fans power to run on the sun or batteries.
Final Verdict
Chicken coop fans are a great way to keep your chicken coop cool and ventilated. We hope this guide helped you choose the best chicken coop fan for your coop.
FAQs
What is the best floor for a chicken coop?
The chicken coop flooring should be made of a comfortable material for the chicken to walk on, easy to clean, and durable. The most common flooring materials are straw, sand, grass, and concrete.
How much venting does a chicken coop need?
The chicken coop needs at least one square foot of venting per chicken.
How many chickens can you put in a 4×8 coop?
You can put up to 8 chickens in a 4×8 poultry coop. However, if you plan on keeping more than eight chickens, you will need to add more chicken coops or increase the size of your chicken coop.