Raising chickens can be difficult and strenuous, especially if you are a beginner. You do not only think about what to feed your chickens but also how to feed and protect them. In terms of feeding them, one of the most important decisions you will make is what type of chicken feeder to use. There are many different types of chicken feeders on the market, and each has its own pros and cons. Ground, hanging, and bucket feeders are the three most popular chicken feeders.
In this article, we will talk about everything you need to know about hanging feeders before buying.
To help you decide what to buy, here is a list of the top 5 best hanging chicken feeders on the market with their pros and cons.
Comparison Table of the Best Hanging Chicken Feeders
Wildgame Innovations Pail Feeder, Real Tree Camo Steel, 50-Lbs.
The Quick Set 50 chicken feeder of Wildgame Innovations is a wise choice for those who want their feed times scheduled with precision. It features an adjustable pail that can fill and hold up to 6 pounds of food and has a 360-degree range. The hanging sensor will automatically open when you reach desired distance from where they are grazing so there's no need to worry about getting wet or dirty during storms.
The durable construction ensures lasting performance through the years while still remaining lightweight even if used daily.
Pros:
The powder-coated steel construction is durable.
Can withstand different weather conditions
Design and materials can survive for more than 2 years
Galvanized steel spinner plate
The auto timer is very reliable
Predators, such as raccoons can't get off the lid
Cons:
Miller 9112 12lb. Galvanized Hanging Poultry Feeder
This hanging chicken feeder from Miller is made from galvanized steel and can hold up to 12 to 30 lbs. of feed, depending on the size. It has an all-metal design that lasts longer. It's big enough to feed lots of chickens at the same time and easy to refill
Pros:
Larger capacity, less refilling
Easy to clean
Durable and long-lasting
No feed waste
Cons:
No lid so the rain can get in if kept outdoors
May rust easily
Harris Farms Poultry Feeder | Manna Pro Chicken Feed, Free Range Hanging Chicken Feeder
Harris Farms Feeder heavy-duty galvanized feeder can feed 30 to 50 birds! This feeder has features such as rolled edges, an easy carry handle/hanger, and a 3-position height adjustment that makes it ideal for larger breeds of chickens.
Pros:
Height can be adjusted in three positions
The feeder is easy to refill and clean
Does not need constant refilling because of its big capacity
Sturdy
Cons:
The crumbles don't disperse very well for some
Little Giant Hanging Metal Poultry Feeder (40 Pound) Galvanized Steel
This feeder can hold up to 40 pounds of bird feed, keeping your feathered friends nourished and happy. Made from heavy-gauge galvanized steel for durability with rolled edges that are safe in case they fall on the ground. It has a durable, rust-resistant steel body that will last years.
Pros:
no waste
rust-resistant
high-quality steel
can feed 6 chickens in a month
ant-scratching design
Cons:
Harris Farms Free Range Hanging Poultry Feeder | Twist Lock Base | 10 Pound
The Harris Farms container is made from BPA-free plastic, making refilling simple and easy. The sturdy handle makes relocating the waterer an enjoyable task that can be done indoors and outdoors. Comes with a clear guide, so you'll never have trouble using this feeder or following the written instructions.
Pros:
BPA-Free Plastic
Multi-use- indoors and outdoors
Has Visible feed level for easy refill
Keeps chickens and baby chicks from scratching
Cost-effective
Cons:
May still have feed spillage
Design is not so convenient
The trough is too shallow
What is the purpose of a hanging feeder?
Hanging chicken feeders are designed to keep the chicken feed dry, clean and fresh. They also help to reduce the risk of contamination from vermin, predators, and bad weather. If you live in an area with a lot of these risks, you may want to consider a hanging chicken feeder.
Hanging chicken feeders have many benefits. Let's narrow each benefit one by one.
First, hang a chicken feeder to keep your chicken coop clean
Dirt and debris can easily accumulate in ground-level feeders. Hanging your feeders can be out of reach of your chickens' dirty feet. It means there is less chance of your chickens tracking dirt and debris into their feed. It also helps to reduce feed waste on the ground. A healthy environment means healthy chickens, especially baby chicks!
Second, hang feeders to keep food away from rats and mice
Mice and rats are attracted to chicken feed, and if they can get into your coop, they will soon make themselves at home. If you hang the feeders, it makes it more difficult for rats to get or steal more feed.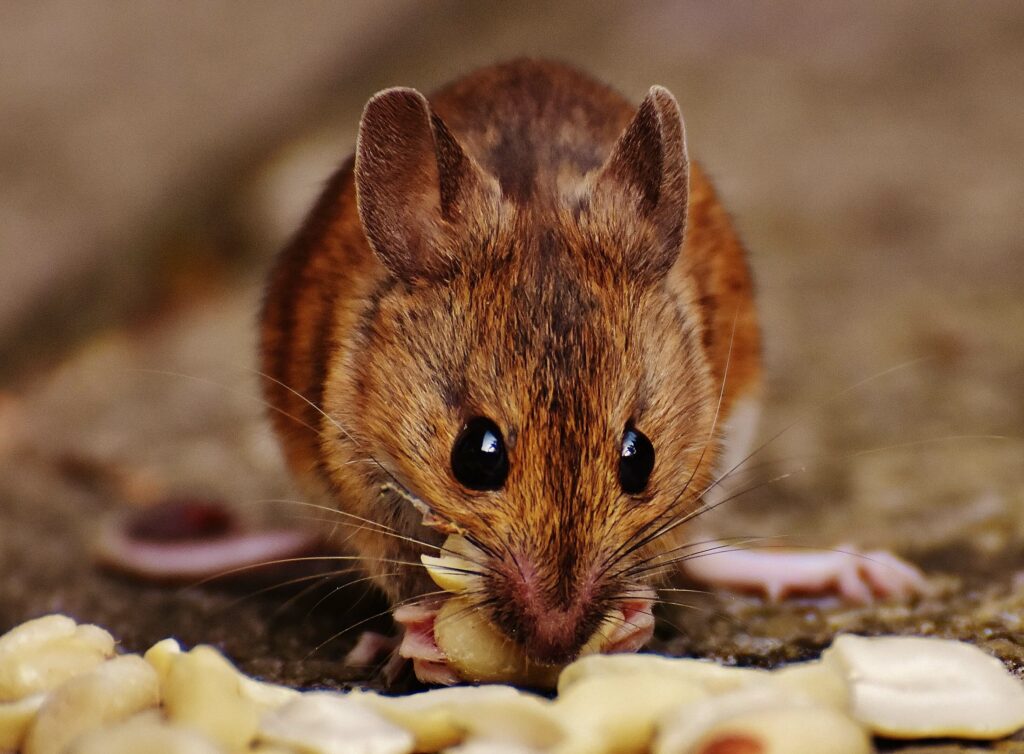 When feeding time, it's also difficult for rodents to access the feed. Rodents can quickly become a nuisance. If you have a problem with rodents in your chicken coop, a hanging feeder can help deter them and keep their feed out of reach.
Third, hang feeders to keep feed dry and clean
Chickens are messy eaters. They love scratching. If their feed is on the ground, it can quickly become soiled. A hanging feeder helps reduce feed wastage and protects it from poop on the ground.
Fourth, it can discourage bullying and aggression among your chickens.
There are times when chickens are aggressive eaters. If only one ground-level feeder exists, the dominant chickens will often hog the chicken feed and prevent the others from eating. It can lead to fighting and bullying. But if you hang the feeders can help spread their feed evenly and avoid fighting.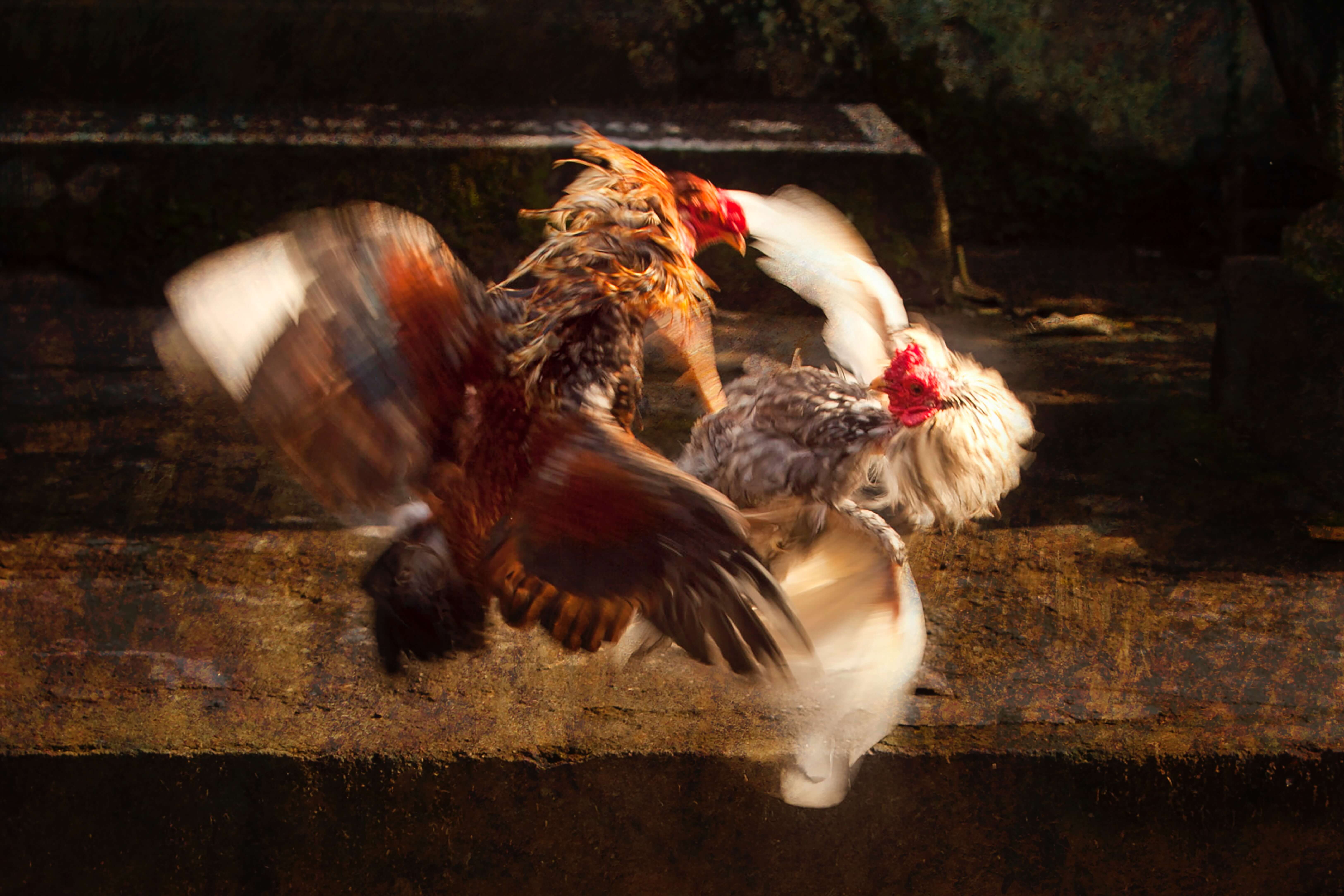 Best Chicken Feeders: Factors to Consider
Placement of the Poultry Feeders
One of the most important things to consider when choosing a chicken feeder is where to place it. You may not have much room to spare if you have a small coop, so if you hang a feeder, it can be a great space-saving option.
Otherwise, you may consider placing your feeders in a location that is out of the way of your chickens' sleeping and nesting areas to keep the place clean.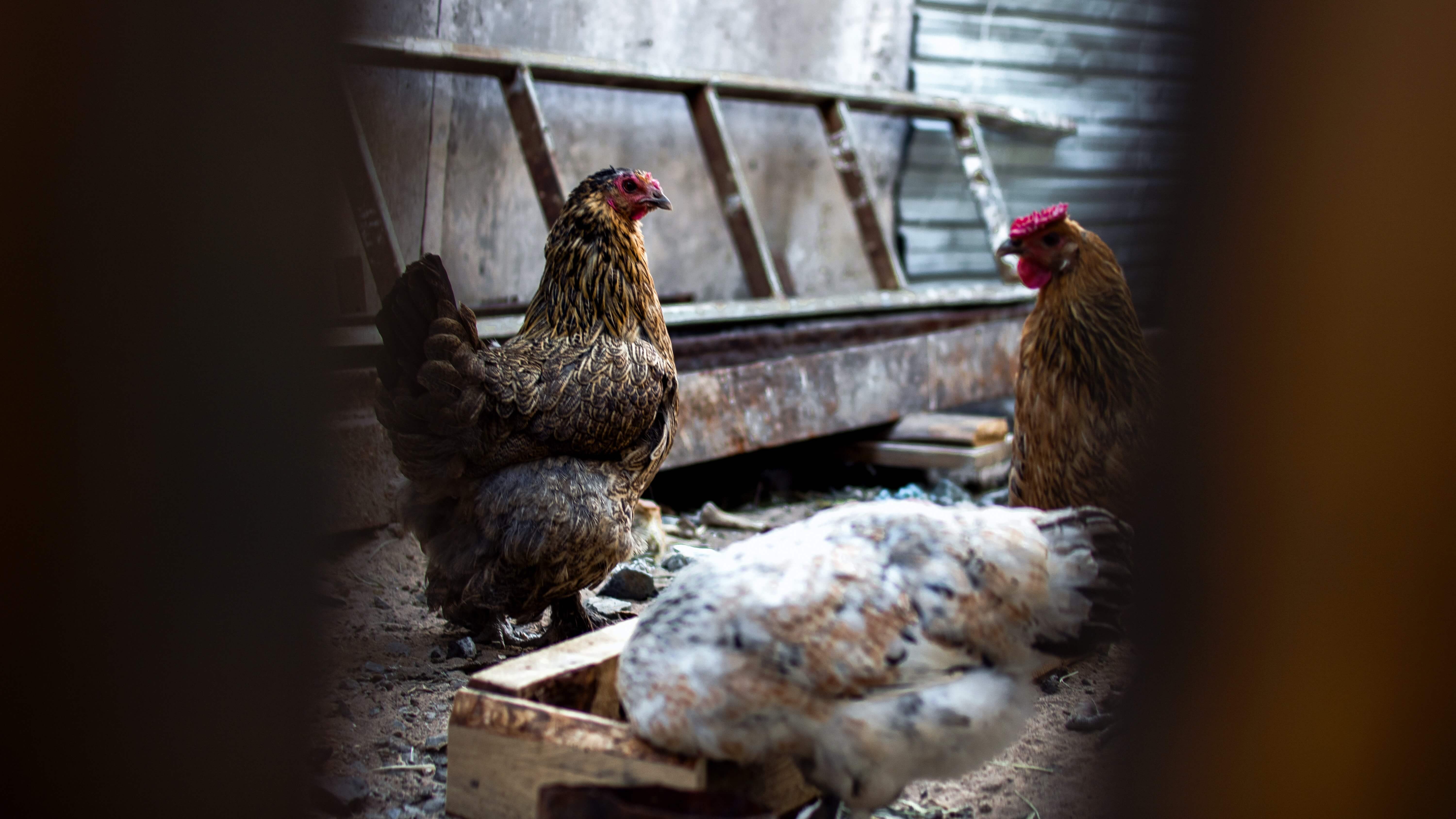 Size of the Feeder or the Capacity
The size or capacity of the feeder you choose will depend on the number of chickens you have. You may not need a large feeder if you have a few chickens.
However, if you have a larger one, you will need a bigger feeder to ensure that all of your chickens can eat without having to compete for the feed.
Material
Chicken feeders usually come from plastic or metal. Plastic is often cheaper, but it is not as durable as metal. Galvanized chicken feeders are more expensive, but they will last longer.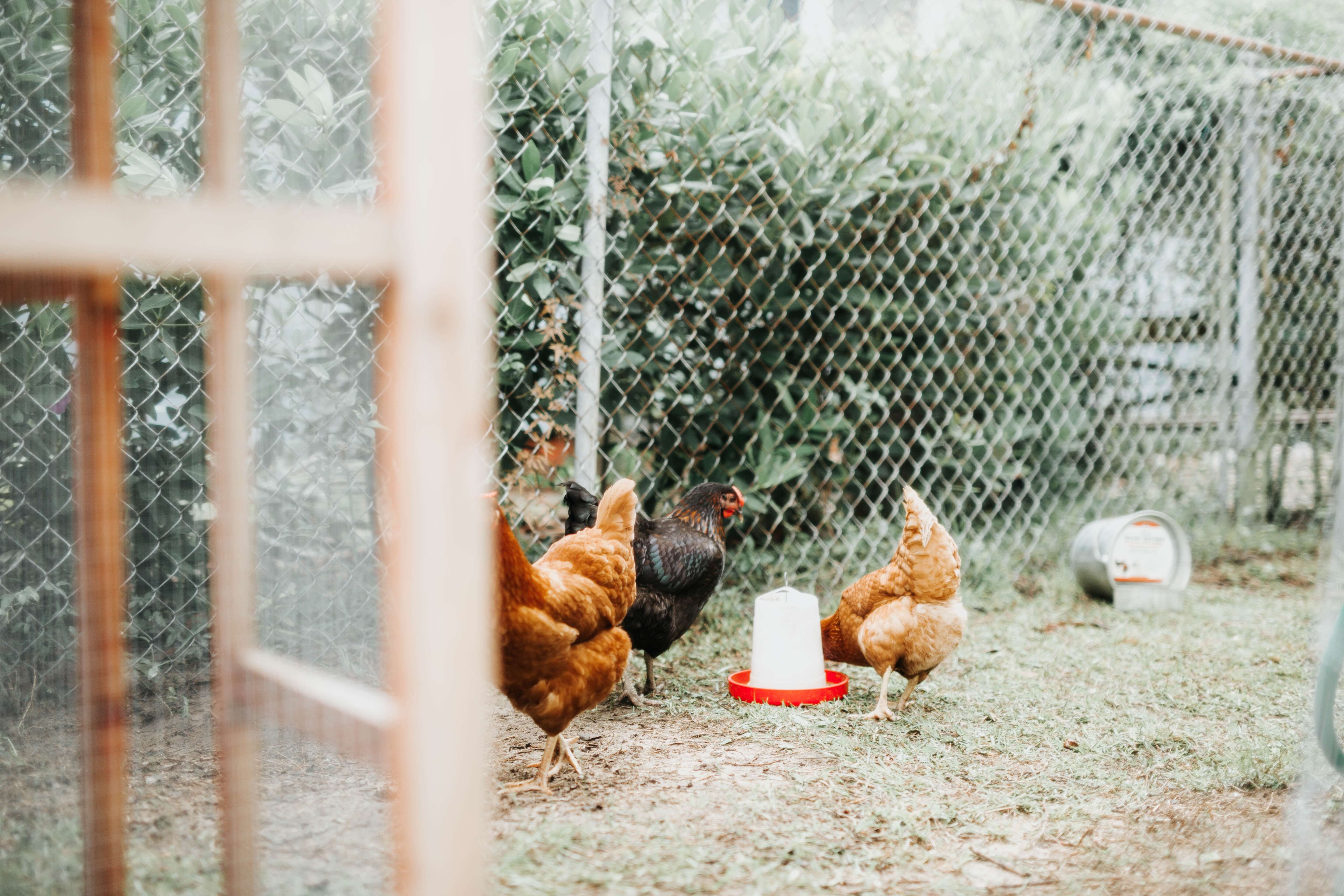 Price and Budget
You need to consider your money. Basically, a chicken feeder can range in price from a few dollars to over one hundred dollars. It can vary depending on the size, capacity, and material.
The type of feeder you choose will affect the price. Plastic feeders are usually cheaper than metal ones. You may not need a large or expensive feeder if you have a small flock. However, if you have a large flock, you will need a bigger and more durable feeder, which will be more expensive.
You can make a chicken feeder from recycled materials if you don't have enough money or are tight on budget. There are many tutorials online you can watch how to do this.
Design of the Poultry Feeder
The design of the chicken feeder you choose will also be important. Some chicken feeders have a simple design with one opening for their feed which is enough for a smaller flock.
A simple chicken feeder with one opening may be all you need for. But for a larger flock, you will need a feeder with multiple compartments to ensure that all of your chickens can eat without fighting for each other's feed. This design is also good for chickens of different sizes and breeds.
Other poultry feeders come with a lid to keep out vermin. It is a good feature if you live in an area with many mice or rats. A lid will help keep your chickens' feed clean with less waste and free of contaminants.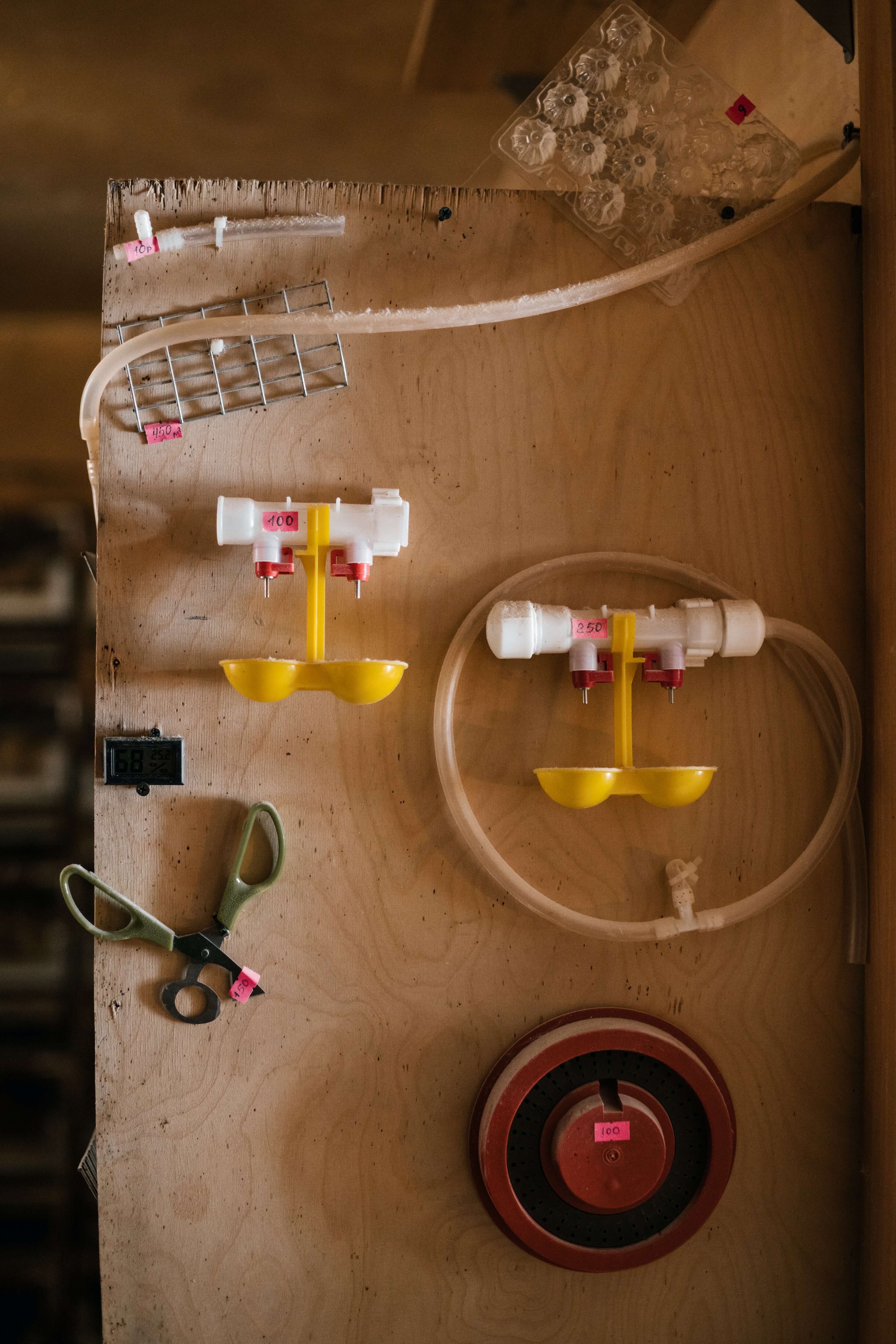 Features
Some chicken feeders come with additional features that can be helpful. For example, some feeders have lids to keep out vermin, and some have weather-proof designs to protect the chickens and their feed.
If you live in an area with a lot of vermin or bad weather, you may want to choose a chicken feeder with one or more of these features.
Pests and Predators
If you live in an area with many pests or predators, you may want to choose a feeder made from a durable material like metal to deter predators from damaging the feeder or when your lovely birds scratch them. If there are no predators inside the coop, the eggs and baby chicks are safe too!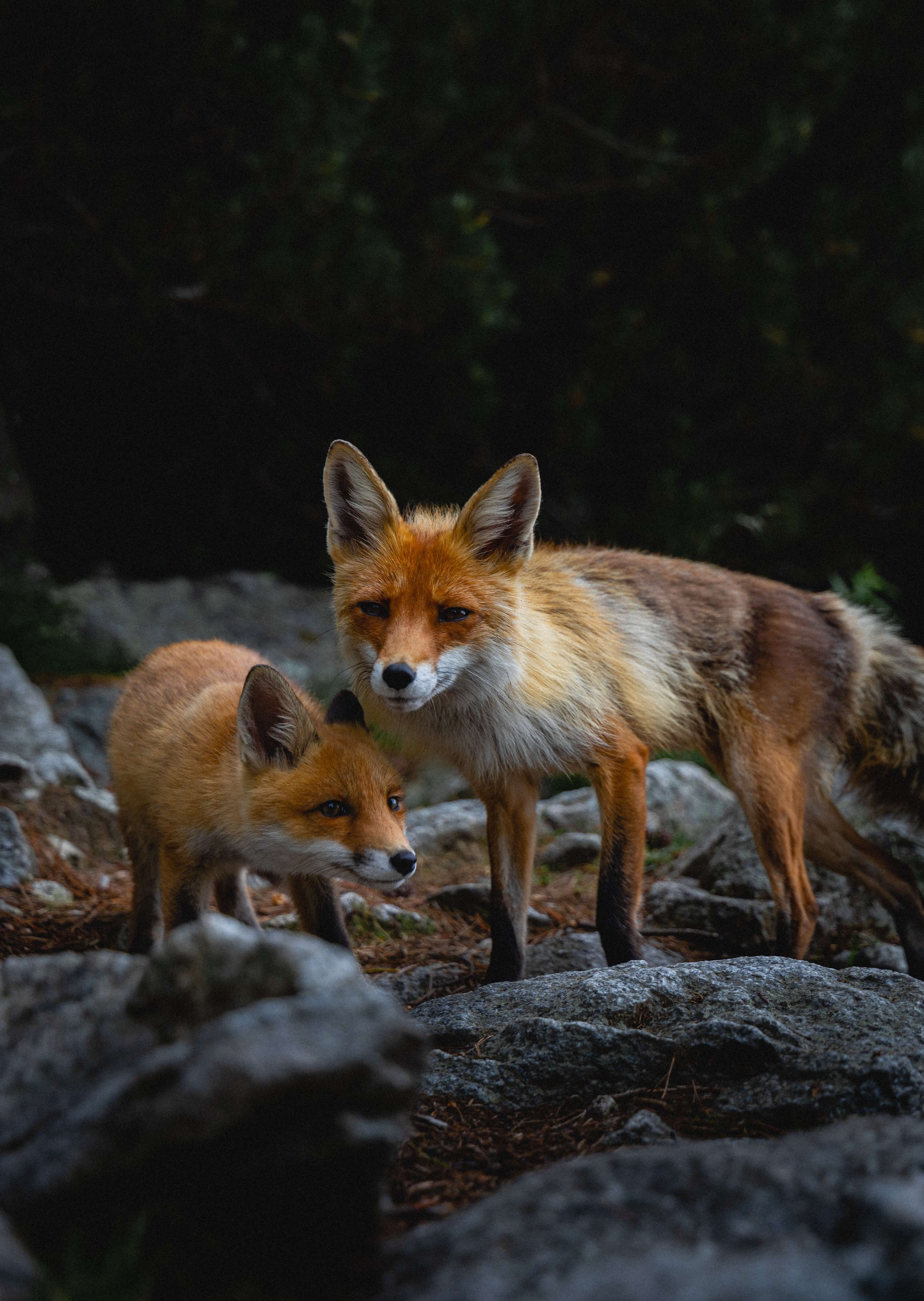 How High Do You Hang a Chicken Feeder?
The height of the chicken feeder off the ground is important to consider because if it is too low, the chickens will be able to reach their feed and make a mess.
If it is too high, the chickens may also be unable to reach it. To reduce waste, the best height for a chicken feeder is about 18 inches (46 cm) off the ground.
What is the Best Way to Hang a Chicken Feeder?
The best way to hang a chicken feeder is with a chain or wire that is long enough. The chain or wire should be strong to support the weight of the feeder when it is full.
The materials used to make chicken feeders are as versatile and durable. You can find steel harness chains with hooks, paracord, or nylon ropes that will hold up well in various environments – from the ground flooring up high.
A final way to dangle your feeder is by using a pulley system. This setup is similar to the one used for hanging plants and can be easily made with materials you may already have lying around the house. You will need a strong rope or twine, a bucket, and a few other household supplies.
It will be best if you also consider a feeder hung in a location that is out of the way of your chickens' sleeping and nesting areas.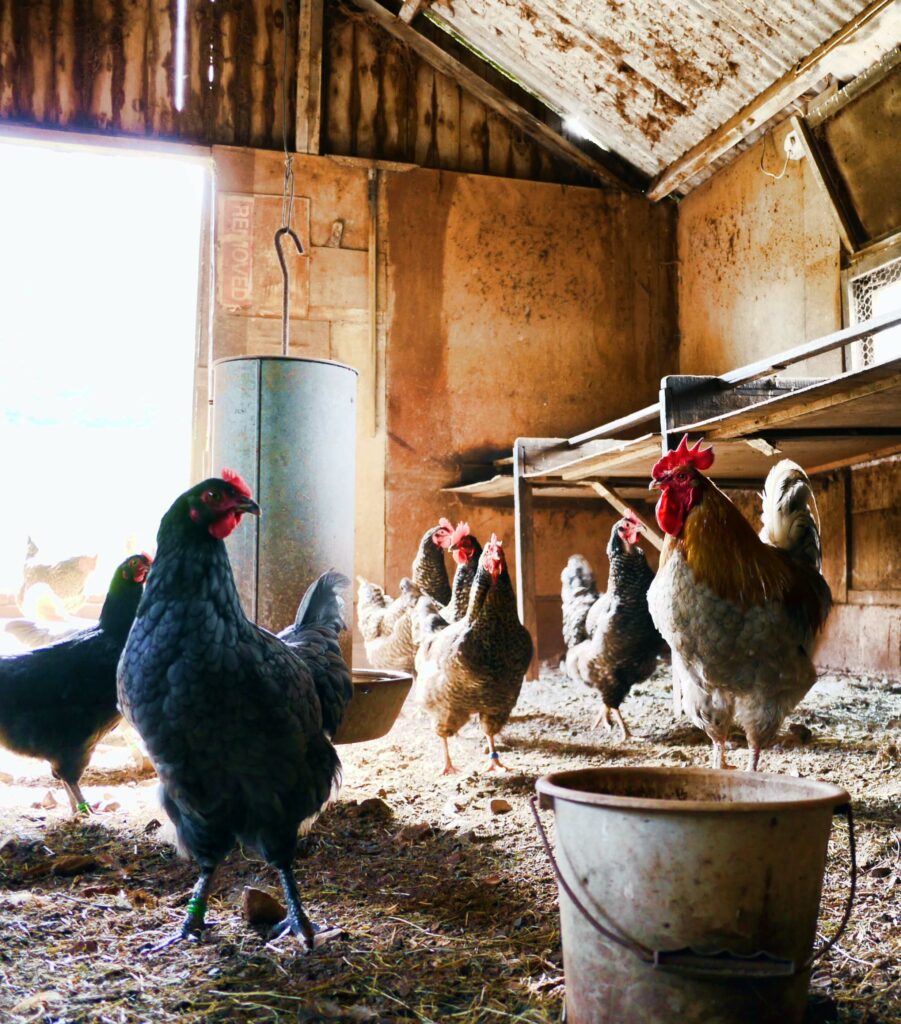 Is There an Automatic Chicken Feeder that is Hanging?
Yes, there are several brands of automatic chicken feeders that you can hang. These feeders can be a great option if you want to ensure your chickens always have their feed available near them without having to refill the feeder constantly.
You can find and purchase these brands and other automatic chicken feeders at your local farm supply store or search online. Remember to read the product details and reviews carefully.
Best Hanging Chicken Feeders Conclusion
If you have a lot of chickens, buying several ground-level feeders can quickly add up. A hanging feeder is a great choice and a more economical option as you only need to buy one. It can also save you time and effort as you don't need to clean several feeders.
If your chickens love scratching, they are also less likely to be damaged. Now that you know more about this type of feeder, you can choose the best one for your flock!
FAQ's
Q: Can chicken run help reduce the risk of vermin getting into the hanging chicken feeders?
A: Chicken runs can help reduce the risk of vermin getting into the feeder. If you have a lot of chickens and a big garden, you may want to consider buying several feeders, so each chicken has its feeder. It will help keep their homes away from dirt and contamination and reduce feed waste.