Chicken feeders come in various materials, each with its own benefits. So, if you have a backyard chicken or a beginner in poultry management, it might be challenging to select the right one for your flock.
For the records, the most popular type of feeder is plastic. But if you're looking for something that isn't as maintenance-heavy, then galvanized steel might be perfect for you. Galvanized feeders are now becoming a popular option among chicken farmers because it is corrosion-resistant and more durable.
Continue reading to learn more about the top 7 best galvanized chicken feeders available.
Feeders are an essential part of chicken care. Therefore, it's best to choose the right ones to help keep your chickens healthy and safe, away from diseases and predators.
Our Top 7 Picks for the Best Galvanized Chicken Feeders
Rural365 Galvanized Chicken Feeder
The rural 365 galvanized feeder is a long-lasting, water-resistant, and rat-proof option for your birds. This sturdy steel design includes holes on the back, which allow you to mount it easily – giving them access not just in one area but all around! The lid makes refilling easier while keeping their food dry, and the included anti-scratch plate means no more wasted feed.
Features and Benefits:
Galvanized steel construction 
Water-resistant 
Rat proof 
Holes on the back for smooth mounting 
Lid for facile refilling 
Anti-scratch plate included 
Hanging Poultry & Gamebird Feeder with Feed Pan, 30 Lb Galvanized Steel
The Hanging Poultry & Gamebird Feeder with Feed Pan has a big capacity and is perfect for backyard chicken farmers with a large flock. This product can stock up to 30lbs of poultry feed and comes with a 14″ feeder pan. The pan is made of galvanized steel and has a powder-coated finish.
Features and Benefits:
Durable and has thick sides
Powder-coated finish 
Less refilling
Made of galvanized steel
Little Giant Large Steel Poultry Feeder Galvanized High Capacity Poultry Feeder, 25 lbs
Little Giant Poultry Feeder is made of heavygauge galvanized steel. It is an easy-to-use and durable product that requires no tools for assembly! The feeder can store and dispense up to 25 lbs. of feed-pellet or crumble feed. The item can sit on the ground but it will also work well when mounted – either against a wall or frame/post, etc., which means you're able to enjoy your backyard chickens anywhere without restrictions.
Features and Benefits
decreases feed waste
has feed saver grid to avoid overfilling
very cost-effective
open flow chute design for steady food without blockage
saves you time to fill the feeder from time to time
Harris Farms Poultry Feeder | Manna Pro Chicken Feed, Free Range Hanging Chicken Feeder
Harris Farms Feeder heavy-duty galvanized feeder can feed 30 to 50 birds! This feeder has features such as rolled edges, an easy carry handle/hanger, and a 3-position height adjustment that makes it ideal for larger breeds of chickens. It has a capacity of 30 lbs.
Features and Benefits:
Height can be adjusted in three positions
The feeder is easy to refill and clean
Does not need constant refilling because of its big capacity
Sturdy
VEVOR Galvanized Poultry Feeder
The Vevor Galvanized Chicken Feeder can hold up to 11.5lbs of feed. The feeder's galvanized steel finish is water-resistant and can withstand extreme weather conditions, whether scorching sun, light rain, or snowfall. The rainproof chicken feeder has predrilled holes on the back panel for wall mounting. This poultry feeder is convenient to install and use and easy to refill with the lid. You don't need to worry about spilling feed onto the ground with this feeder
Features and Benefits:
Easy to install
water-resistant and weather-proof
Easy to clean with its openable lid
Waste-free feeder
Price worthy
Miller 9112 12lb. Galvanized Hanging Poultry Feeder
This hanging chicken feeder from Miller is made from galvanized steel and can hold up to 12 to 30 lbs. of feed, depending on the size. It has an all-metal design that lasts longer. It's big enough to feed lots of chickens at the same time and easy to refill.
Features and Benefits:
Larger capacity, less refilling
Easy to clean
Durable and long-lasting
No feed waste
Grandpa's Feeders Automatic Chicken Feeder – Sturdy Galvanized Steel Poultry Feeders
Grandpa's Feeders are made with high-quality galvanized steel, which will last in the toughest outdoor settings. This item protects your chickens so they can eat on demand without access to food when hungry. You'll be able to feed up six birds at once thanks also these automatic feeders that hold 20 lbs (9kg) of pellets – about ten days' worth.
Features and Benefits:
Has a large and wide opening for easy feed access
Includes side guards
Has a built-in anti-flick grill to stop chickens from throwing the feeds
Snow and rain can't spoil the feed
Benefits of Galvanized Chicken Feeders
Not smelly
The metal surfaces don't absorb smells as their counterparts do, so you can keep them out on your deck or porch without having an offensive odor permeating through all parts of the home nearby.
More Durable
Galvanized feeding containers are much more durable and last for years with proper care. If you have a problem with mice and rats, galvanized one is a good option. It prevents rodents and other animals from getting into the feed, as some models have tight-fitting lids.
Easier to Clean
Galvanized metal is non-porous, so it doesn't absorb bacteria and dirt the way plastic does. It means they require less vigorous cleaning and can be sanitized more easily.
Blocks Sunlight
Because they're metal, galvanized chicken feeding boxes can block out sunlight which can help feed keep longer. If you live in an area with limited sunlight, you may want to consider another type of feeder.
Cons of Galvanized Chicken Feeders
Tend to Be Noisy
Galvanized feeding containers are noisier than other types when chickens are eating from them. This is because the metal clangs together as they eat.
Heavier and More Difficult to Move
Galvanized feeders are also heavier than their plastic counterparts, making it difficult to move around. If you have a large flock, you may need multiple feeding containers to accommodate everyone.
More expensive than plastic feeders
Galvanized feeders are more expensive than plastic, but they will last much longer if properly cared for. If you are concerned about the price, a plastic feeder could be a better fit.
How to Clean Galvanized Chicken Feeders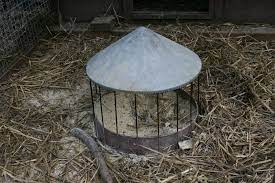 Cleaning galvanized poultry feeders is relatively easy. You can use a brush and soapy water to scrub any dirt or debris. Rinse the feeder thoroughly with clean water and allow it to air dry. You can use a vinegar solution as an alternative. Mix one vinegar with four parts of water and use this solution to scrub the feeder. Rinse it thoroughly with clean water and allow it to air dry.
You should also sanitize your chicken feeding containers regularly. Mix one tablespoon of bleach with one gallon of water and use this solution to scrub the feeder. Rinse it thoroughly with clean water and allow it to air dry.
What You Need to Know About Chicken Feeders
Treadle Feeders
A treadle feeder allows chickens to eat without tipping the feeder over and wasting feed. It consists of a platform with a trough attached. The chickens step on the platform, which opens the door to the trough, allowing them access to the feed inside.
When the chickens are finished eating, they leave the platform, and the door closes, preventing other animals from getting to the feed. This way, you can save money on wasted feed.
Hanging Feeders
A hanging chicken feeder are those that you hang from the coop's ceiling or outside the coop. Hanging poultry feeding containers are a good choice for small flocks of poultry birds because they can be easily moved around as needed. It also avoid food waste on the ground and keeps vermin out of the coop
Ground Feeders
A ground chicken feeder is basically placed on the ground. It has various designs that are best for both indoor and outdoor use. Ground chicken feeders are a good choice for large flocks of poultry birds because they can stock a lot of food.
Chicken Waterers
Food is only one part of the equation to a healthy and productive flock, the other part of the equation is adequate hydration.
Chicken waterers come in a variety of sizes and styles. Some chicken watering systems are designed to be used inside the coop, while others are designed to be used outside.
Waterers are essential to chicken care because it provide with the water they need to stay healthy and hydrated. It keep the poultry's water clean and fresh, preventing disease.
Conclusion
Galvanized chicken feeders are an excellent choice for they are durable, easy to clean and keep the flock's food clean and dry. Although they are more expensive than plastic feed containers, but they will last much longer if properly cared for. They will help keep your chickens healthy all the way.
FAQs
Is galvanized metal safe for chickens?
Yes, galvanized metal is safe. Chickens are not affected by the zinc content in galvanized metal and can safely perch on or eat from galvanized metal surfaces.
Are metal or plastic chicken feeders better?
Some people prefer metal chicken feeders because they are more durable and easier to clean. However, plastic feeders are also a good option and are often less expensive. Ultimately, it is up to the individual chicken keeper to decide which type of feeder is the best.
Where can I purchase these feeders?
You can get these feeding pots from online stores. Search the online store, create an account, choose a feeding spot, and confirm your order. They will send or ship the items to your given address in a few days. You can also get a discount on deals, but exclusions apply to such an offer.
Do not forget to review the products and check customer feedback before purchasing.