Quality feeders are among the most essential pieces of equipment for raising chicks. Baby chicks are inexperienced and do not know how to eat and use feeders properly. It's common for them to be messy, so you'll need the best chick feeder that can keep them clean and won't make them kick their food. At the same time, this will eliminate potential health issues.
Many types of baby chick feeders are available out there. To help you make the best choice for feeding chicks, here is a comprehensive guide to the different chick feeders available.
Best Chick Feeders for Your Poultry Flocks
Check out these chick feeders for your poultry flock:
RentACoop Dual-Port Chick Feeder
The RentACoop Dual-Port Chick pot is a great option to protect your baby birds from other animals. It has an enclosed design with just four feeding ports – two for babies aged four weeks or less!
Pros
The enclosed design protects your chicks from other animals
No waste and mess feed because the ports sit at the right height
Suitable for use with a variety of food types
Durable and easy to clean
Cons
Not weatherproof, so it will need to be brought inside during bad weather.
Water may leak around the fittings and get into the feed.
Plastic Flip Top Poultry Feeder
This baby chick pot has an attractive design that will look great in any coop. The lid is easy to flip up, so you can fill it quickly.
Pros
The feed tray is durable, high-quality plastic that will last for years.
It has a high feeding capacity that can accommodate larger flocks of up to 28 baby chicks.
Super easy to clean
Has no sharp edges, safe for baby birds
Cons
The baby birds can stand on top of it and may cover the feed with poop
Can be filled with wood chips or anything else on the ground level
Chicks may kick bedding into the pot
Little Giant Baby Chick Feeder Metal Base
This highly efficient feeder is among the customer's top choices on Amazon, thanks to its durability and high feeding capacity. It sports a classic old-world design, but it offers many advantages making this the most reliable one.
Pros
It has a durable steel design that is rust-resistant and corrosion free
Its large feeding capacity allows you to feed about eight chicks all at once
Very simple and functional excellent for baby chickens
Chicks cannot perch on this pot, so they cannot poo on their feeds
Cons
It has sharp edges that might hurt your little birds
Large holes can cause birds to kick beddings into the feed and waste it
Roosty's Chick Feeder and Waterer Kit
Roosty's feeder holds 1L. The anti-tip design ensures your baby chickens remain comfortable and dry. Because of its waste-proof design, you won't have to worry about food waste and messy chickens. This product allows you to adjust the height three times. Finally, it is made of strong BPA-free plastic that is non-toxic for your young chicks.
Pros
Has three heights options
Thicker plastic than others
It has an anti-tip and antis-scratch design
Helps keep bedding out
Cons
RentACoop 1 Liter Capacity Chick Feeder
ReanAcoop product is easy to wipe out and refill. Using the scratch ring, you can prevent your robust chicks from wasting their dinner. The water level is clearly visible, so you will always be aware when it is time for a refill. It comes with a base, scratch ring, feed holder, and a reservoir handle.
Pros
Affordable price and effective
Easy to disassemble and assemble when cleaning
Very handy and portable
Safe to use with all ages of chickens
Cons
Not super heavy-duty
Has a tendency to flip if not hung
Why is it Important to Have a Good Feeder for your Young Chicks?
Baby chickens typically spend the first few weeks of their lives eating and drinking from a bowl or trough. Like babies, they aren't yet able to feed themselves and need accessible food. So, letting them do things alone can be quite harmful.
Being a chicken owner means giving them everything they need, including attention and love as much as possible. By choosing a good feeder, you can assist them in their feeding development while spending less time monitoring them.
Using a baby chick feeder, you can keep their food and water contained while ensuring the area stays clean. Poorly maintained environments can lead to coccidiosis and salmonella infections in chicks. Eventually, it can lead to death.
A chick feeder will also save you time and money in the long run. If you use a traditional bowl or trough, you must constantly refill it and clean up your chicks' messes. A chick feeder will reduce the time you spend cleaning and refilling, so you can focus on other aspects of raising your chicks.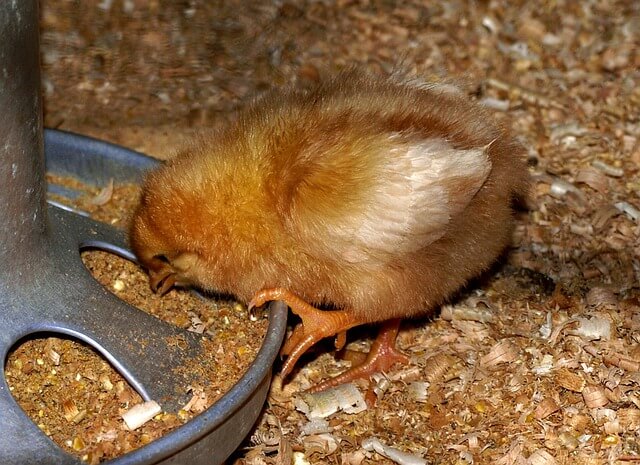 To narrow down the reasons why you need a baby chick feeder, we've listed the ideal characteristics that your chicken feeder should have:
The ability to hold a substantial amount of food, so you're not constantly refilling it
A design that doesn't allow your chicks to kick their foodstuffs and water out
Can be used both indoors and outdoors
A lip around the edge of the feeder to prevent foodstuffs and water from spilling onto the ground
A smooth, easy-to-clean surface
Made from long-lasting and durable materials
The height must be adjustable for your chicks to ingest and drink from conveniently.
A sturdy base that won't tip over easily
Can withstand different weather conditions
Feeders for chicks are available in a variety of shapes and sizes. There are also ones designed for baby birds, which is important since they have different needs than adults.
Baby Chick Feeder Types by Age
Baby birds need a feeder that suits their age group to easily access food and water. Here is a breakdown of the different types of chick feeders by age:
Chicks 0-3 weeks old: Cup or nipple feeders
For day-old chicks, a brooder box with a wire grate on the bottom. This type of brooder feeder will keep the foodstuff clean and dry and prevent the chicks from scratching it out of the container. One example of a brooder box with a wire grate is the K & H Manufacturing Baby Chick Brooder Box.
You can also introduce a chick feeder with a screen bottom at this age. It helps chicks eat less dirt while learning to consume from a feeder.
Chicks 3-6 weeks old: Tray, cup, or nipple feeders
As your chicks grow, they will need more space to move around. A good option for chicks that are one week to three weeks old is a chick feeder with a tray. This feeder will give the chicks more space to move around and prevent them from scratching the food out of the container. One example of a pot with a tray is the Little Giant Baby Chick Feeder with Tray.
You can continue using the screen bottom feeder or introduce a pot with a solid bottom. This type of feeder will help chicks transition to an adult-style feeder.
Chicks 6-12 weeks old: Waterers, tray, Cup, or nipple feeders
At this age, you can transition your chicks to an adult-style feeder. They can use this type of feeder for the rest of their lives. The chicks will be able to use a standard chicken feeder without any problems.
Chicks 12+ weeks old: Waterers, automatic chicken feeders, or gravity chicken feeders
At this age, you can switch to a larger chicken feeder if you like. A suitable option is a 10–12-gallon (38-45L) pot. This capacity will be big enough for a flock of up to 12 chickens.
You can also switch to an automatic or gravity chicken feeder. These containers will make life easier because they will automatically dispense food and water.
As you can see, there is a feeder for every age group.
Types of Baby Chick Feeders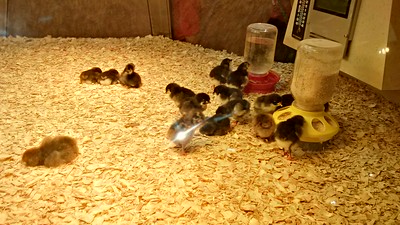 Now that you know why you need a baby chick feeder, let's look at the available types.
Feeder Tray
Tray feeders are one of the most popular types of Chick Feeders. They are typically made from plastic or metal and have a shallow tray filled with foodstuff or water.
Cup Feeders
Cup feeders are similar to tray feeders but have a series of small cups instead of a large tray. You can fill the cups with water and chicken food, and the chicks can eat or drink from them.
Nipple Feeders
Nipple feeders are a type of pot that uses nipples instead of cups or trays.
Long plastic Poultry feeder
A long pot is a great option if you have dozen or more chicks because it's flexible enough to feed them all at once. This way, cleaning up will be easier since there are no foodstuff spills on your floor. It also prevents illnesses from possible contact with bacteria.
The only thing negative about these plastic feeders is they are light. Therefore, it easily tips over, so you might want to put something heavy on top of it.
Long metal trough chick feeder
These long feeders are also a great option for a bigger group of chicks or if you have growing chicks. You should elevate this so the chicks won't have to strain their necks just to eat. This way, they can easily see their foodstuff and water. Also, it has a smooth surface, making it easier to clean.
The only thing about metal containers is they can get too hot during summer or if you live in a warm climate, so make sure to put this in the shade.
Mason jar Chick feeders
A Mason jar feeder is very popular since you can easily make it at home. The design is also very simple, which makes it easy to clean. You can use any type of jar for this, but an upturned mason jar is the most common.
You only need to be careful with the size of the hole you make on the lid. If it's too big, your chicks might be able to fit their heads through it and get stuck. If it's too small, they might be unable to consume it evenly.
Hanging feeder
It is great for older chicks since they can easily pick grains from it without messing. It's also perfect if you have limited space because you can just hang it on the wall or side of the cage.
You only need to ensure it hangs at the right height. If it's too low, the chicks might be able to reach it and make a mess. If it's too high, they might be unable to reach their feed.
Other Types of Best Feeders (Material & Design)
Automatic / Treadle Chicken Feeder
Treadle feeders dispense food and water automatically. These containers are convenient because they keep your chickens fed and watered easily.
A con of automatic or treadle chicken feed containers is that they can be expensive. If you are on a budget, you may want to consider another type of pot.
Trough Feeders
It is a type of chicken feeder that is long and shallow. These types of pots usually consist of plastic or metal. It is ideal for baby chicks because it provides them with a large area to eat and drink from.
However, it may not be suitable for adult chickens, especially for hens with long nails, because they may be able to scratch the foodstuff out of the trough. You may have to clean it more often than other types of feeding options.
These through containers have individual feeding holes that minimize waste spillage.
Gravity Feeders
It is a chicken feeder that uses gravity to dispense food and water. These containers are convenient because they do not require electricity to operate.
However, it may be difficult to clean because the foodstuff and water can get stuck in the tubes.
PVC Chicken Feeder
It is a type made from PVC pipe. These types of containers are lightweight and easy to clean. According to reviews, this pot is also very durable and convenient.
Some drawbacks include no height adjustments, and poultry owners couldn't see how much fees were in the tube.
Galvanized Chicken Feeders
Galvanized chicken feeders are containers made from galvanized steel. These types of pots are very durable and weather resistant. It blocks sunlight so the foodstuff will not spoil as quickly. Others find that they love how sturdy these kits are and that they don't have to worry about rusting.
However, some say these containers are difficult to clean because the galvanized coating can flake off and get into the foodstuff.
How to Pick Best Chicken Feeders
When choosing a chicken feeder for your baby chicks, there are several factors that you need to take into account. Here are some tips on how to pick the best pot for your baby chickens:
Materials
Sizes
Price
Shape
Capacity
Feature
Materials
Chick Feeders are generally made from plastic or metal. Plastic is the most popular material because it is lightweight and easy to clean. Metal is also a popular choice because it is durable and long-lasting.
Always remember t to choose one made from a safe material. Some plastics can release chemicals into the foodstuff or water, harming your chicks. It is also important to avoid metal pots that have sharp fringes, as this can hurt your chicks.
Sizes
Chick feeders come in various sizes, so you can choose one that is the right size for your flock. If you have a small flock, you will need a smaller pot. If you have a large flock, you will need a large feeder.
Chick feeders typically hold between 1 and 5 gallons of feed or water. They come from various materials, including plastic, metal, and glass.
Prices
Chick feeders range in price from $5 to $50. The price depends on the feeder's size, material, and features. Chick feeders made from plastic and hold 1 to 5 gallons of foodstuff or water typically cost between $5 and $25.
On the other hand, those made from metal and holding 1 to 5 gallons of foodstuff or water typically cost between $10 and $50.
Shapes
Baby chicks are also very clumsy. Consider a shape that is age appropriate. Some feeders have smooth sides and rounded corners for baby chickens to prevent the chicks from harming themselves.
Capacity
The capacity will determine how often you need to refill it. Baby chick feeders typically hold between 1 and 5 gallons of foodstuff or water. If you have a large flock of chickens, you will need a chicken feeder that has a large capacity.
Feature
Some containers have special features, such as a water dispenser, durable feeder's top slides, or a built-in heater. These features can be very helpful, but they are not essential.
Continue reading to know the specific features you will consider.
Baby Chick Feeder Features
To ensure that you get the best feeder, there are a few features that you should look for.
Lid: A lid helps to keep the food or water clean and prevents baby birds from getting inside the pot. A tight-fitting lid also keeps out pests and dirt.
Handle: A handle makes it easy to carry the pot and move it around.
Base: A base helps keep the pot stable and prevents it from tipping.
Wheels: Wheels make it easy to move the pot around, even when it is full of foodstuff or water.
Screen Bottom: A screen bottom helps to keep the foodstuff clean and dry
A lip around the feeder's edge helps keep the foodstuff or water from spilling.
What To Know Before Buying a Chicken Feeder
1. Baby chicks are very small, so they can easily fall through the openings in some containers. For this reason, choosing a chicken feeder made from a solid material, such as metal or plastic, is important.
2. They are also very clumsy, so choosing a pot that is the right size is vital. Some chicken feeders are designed specifically for baby chickens. They have smooth sides and rounded corners to prevent the baby birds from harming themselves.
4. Baby chickens grow quickly, so it is important to choose a feeder for both baby and adult chickens. Some containers are designed for baby and adult chickens, while others are just for birds.
5. They are very messy, so choosing a chicken feeder that is easy to clean is important. Some containers have removable parts that can be washed in the dishwasher, while others can be wiped clean with a damp cloth.
No matter what type of chicken pot you choose, it is important to clean it regularly to prevent spreading disease.
Chick Care: Feeding Precautions
DON'T feed layer ration to chicks, not even as an emergency measure.
Chicks need a minimum of 12 hours to digest their feed, so you mustn't feed them any portion after this time. If an emergency occurs and your chick stops eating meals due to illness, throw those portions away immediately. Otherwise, there could be death in store!
DO choose a baby chicken feeder that works for your space.
When choosing a pot, always consider the size of your space and what you need it for. When you have limited counter or storage space, you should choose a unit that is easy to set up and can remain in place without needing to be stored away when not in use.
DON'T leave chick feeders empty for too long.
You should never leave the pot empty for too long. When you have baby birds or overnight guests, they will get hungry and start exploring on their own if you miss feeding them often.
DO think about the good gut health of your chicks.
The health of your flock needs a lot of consideration, especially the gut. Good gut health is essential for a healthy chicken population. The chicks' gut bacteria population, also known as their microbiome, will influence how they grow and digest feed, affecting egg production.
Feeding probiotics is one way to keep your chick's gut healthy. You can find these in powder or liquid form at most pet stores. Just add a little to their water each day.
Furthermore, baby chickens eat what's called "chick grit." This food contains tiny minerals, which help them grow strong beaks and claws. Baby chicks also need a lot of protein to grow, so make sure their diet includes plenty of bugs and insects.
FAQs
What can I use as a chick feeder?
There are many different types of chick feeders available on the market. Alternatively, you can use several household items as a makeshift feeder. It is important to choose a shallow dish for baby chicks so they can't fall in and drown. Some common options include a pie plate, shallow bowl, plastic pot with drainage holes drilled into the bottom, and a muffin tin.
How many chick feeders do I need?
The answer will depend on the number of chicks you have. The general rule of thumb is to provide one pot per ten chicks.
What do 8-week-old chickens eat?
At eight weeks old, your poultry should be able to consume the same feed as an adult chicken. It means you can switch them over to a layer ration if you plan on using them for egg production. You can also continue to feed them a starter ration, which is unnecessary at this age.
Why should I use a poultry feeder?
A poultry feeder keeps your chicks' feed clean and dry and reduces the risk of disease by preventing contamination. It can help reduce feed waste. Feeders can save you time and money in the long run.
How long can baby chicks go without water?
Baby chicks can go without water for up to 48 hours, but it is important to provide them with access to water as soon as possible. If you use a chick waterer, ensure it is filled with fresh, clean water daily.
How long can a chick go without food?
Baby chicks can go without feeding for up to 12 hours. But it does not mean you should not provide feed for them. Baby chicks must consume small meals several times daily to grow and develop properly. Make sure to provide them with a high-grade starter ration and fresh, clean water.
Conclusion
Now that you have read our comprehensive buying guide, you should have the information to choose the best baby chick feeder for your flock. Remember to consider the size of your flock, the type of feeder, and the significant features. Thanks for reading!