Chickens are naturally curious and free-ranging. Their social nature makes them enthusiastic about interacting with other members of their flock. Additionally, they enjoy foraging for food and exploring their surroundings. Perhaps you don't know it, but many chicken owners have built a chicken jungle gym playground in their backyard to keep their chickens active and entertained.
So, if you're thinking of making a playground in your backyard, find out how to make a chicken jungle gym!
What is a Chicken Jungle Gym?
A chicken jungle gym is essentially a chicken playground where your chickens can jump, swing, and climb in the yard. It provides different types of entertainment. If your chickens lack exercise, chicken jungle gyms can provide a safe and fun environment where they can play, move around, and stay healthy. Considering their foraging behavior, they're sure to love running.
Building a chicken jungle gym is a great project. There are several materials you can use to make it, including wood, tree branches, chicken wire, and PVC pipe. You can design it in a simple or elaborate manner, or with a high vertical structure depending on how creative you are and what your budget allows.
Common Designs for the Chicken Jungle Gym Playground and Toys
Here are some examples of chicken jungle gym designs with perches, swings, and mirrors. They can get good exercise and entertainment from these toys.
Why Build a Chicken Jungle Gym?
Building a chicken jungle gym in your backyard will benefit your chickens in many ways.
Besides providing a place for chickens to play and exercise to keep them healthy and happy, a chicken jungle gym promotes chicken bonding and socialization. In this way, chickens are kept away from boredom and stress.
Chicken jungle gyms allow chickens to free-range safely without worrying about predators like raccoons, coyotes, bears, and eagles. This enhances their foraging instincts while keeping them safe from predators. You should be aware that predators will either eat or kill your chickens. Therefore, you should always watch over them.
Building a chicken jungle gym is also a great way to recycle materials that otherwise would be thrown away. If you used to have monkey bars, you could reuse them for your chickens.
Creating an Enriching Life Through Chicken Playground
Taking care of your chickens involves more than just a high capacity chicken feeder. For some people, poultry management is all about meat and eggs, while for others, chickens are pets. This means they require special care, love, and attention. For them to be happy, they need a chicken coop with an adequate ventilation system, clean bedding, and roosting bars. Above all else, the environment should feel like nature.
In other words, chicken keeping involves providing them with stimulating and enriching environments. The chickens need access to a wooded area where they can roam freely and climb, with plenty of plants and trees that are friendly to them.
Having a backyard lacking all of these can lead to your chickens and roosters living shorter lives.
If you love your chickens, chicken gyms are a great way to show it! However, you better have a plan on how to keep your chickens entertained inside their coops first!
Developing an Enrichment Plan for Your Backyard Chickens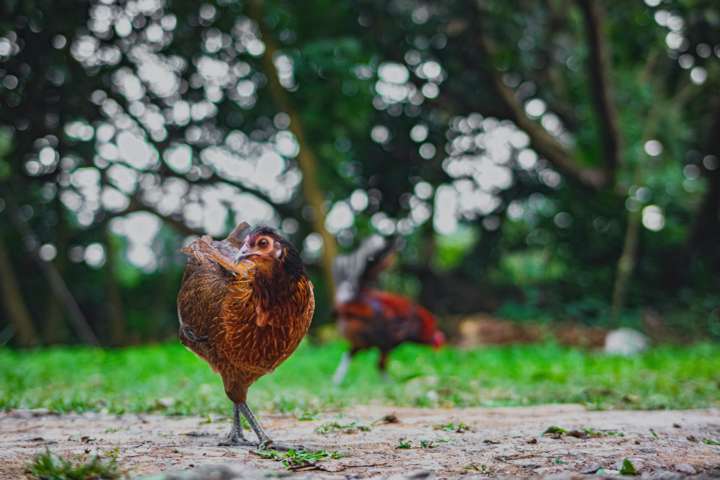 There are different types of activities you can do to relieve the boredom of your backyard chickens. But you can best meet your chicken's needs by implementing an enrichment plan. Those enrichment activities should be geared towards promoting a healthy and happy chicken population. Chickens' natural gathering and pecking abilities must be stimulated through activities.
Start by observing the natural behavior of your chickens when developing an enrichment plan. Watch how they interact with their environment and each other. This can help determine what kind of enrichment is most appropriate for them. It will give you a good idea of what activities they need.
As an example, if you want to reduce feather picking, providing vegetation may be a better choice than others. When your chicken is bored, you might want to try an enrichment activity that involves foraging for food. Finally, if a chicken seems stressed, an activity that involves interacting with its flock mates might be better.
Once you have a general idea of what your chicken likes to do, you can start to develop an enrichment plan that will work for them.
There are tons of enrichment activities you can do with your chickens. But here, we have three main enrichment categories.
Physical Enrichment
Social Enrichment
Nutritional Enrichment
Let's take a closer look at each category!
Physical Enrichment for Chickens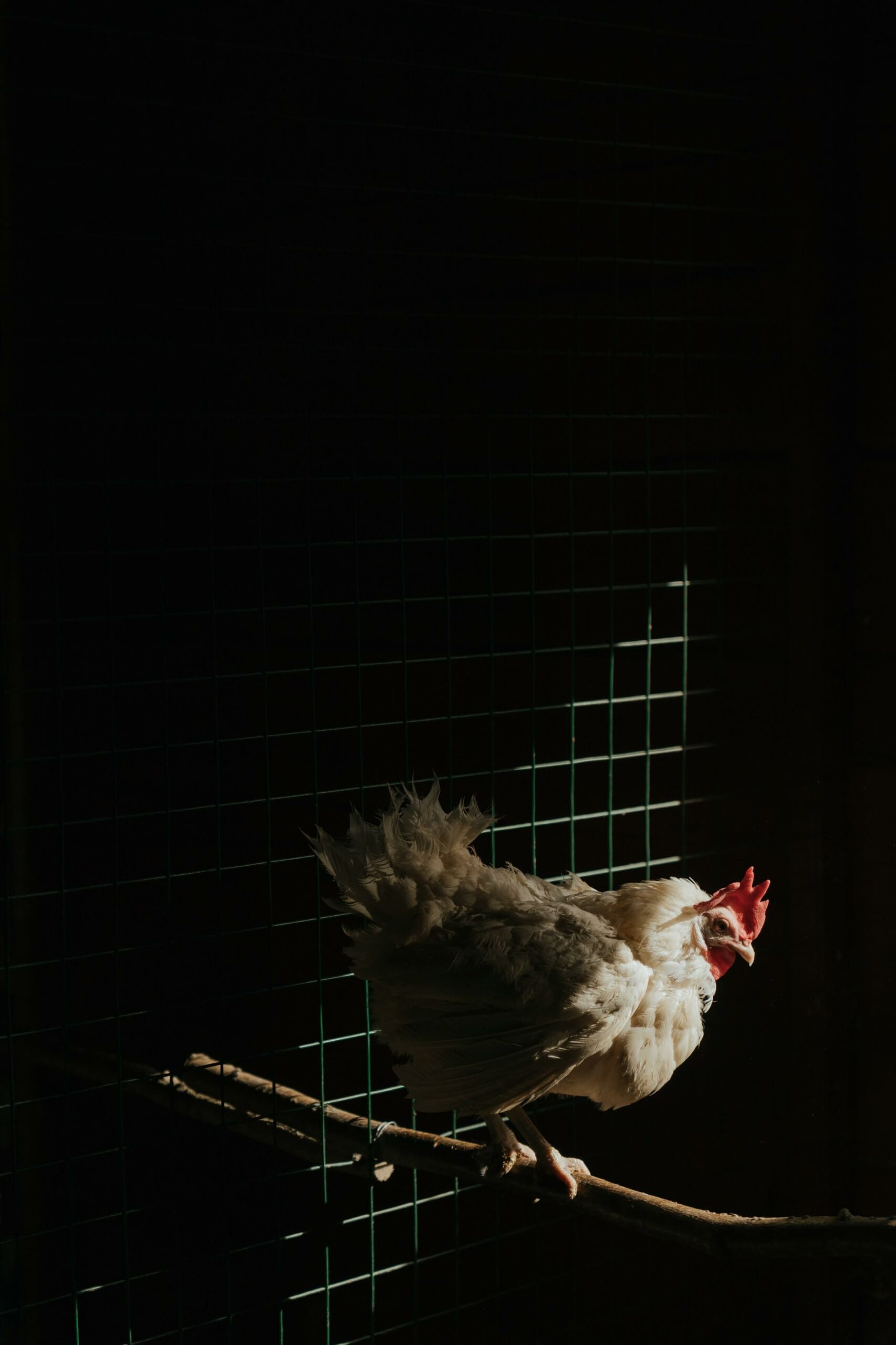 The purpose of physical enrichment is to provide chickens with opportunities to move their bodies and engage in physical activity. Chickens are active animals, and they need to be able to move around freely. Here are some ways to provide physical activity for your feathered friends:
Create an environment with plenty of vegetation and a place for chickens to roam, run, and explore. In order to achieve this, it may be necessary to add plants and trees to the chicken coop or run.
Make sure there are natural branches near the roosting area for the chickens. Place perches for chickens to rest on and exercise their feet.
Your chickens will enjoy toys such as chicken wings, ladders, and swings if you make them or buy them.
Keep friendly objects, such as balls, nearby so they can play with them and peck at them.
It is also a good idea to allow them to roam freely. Foraging for food is one of the favorite pastimes of chickens raised in a relatively large yard. You can encourage them to forage by hiding their food in different places. This will enhance and stimulate chickens' natural gathering instincts and can exercise their feet.
However, it isn't always safe due to their foraging behavior. Chickens raised free-range are more likely to be preyed upon or fight with each other..
Social Enrichment for Chickens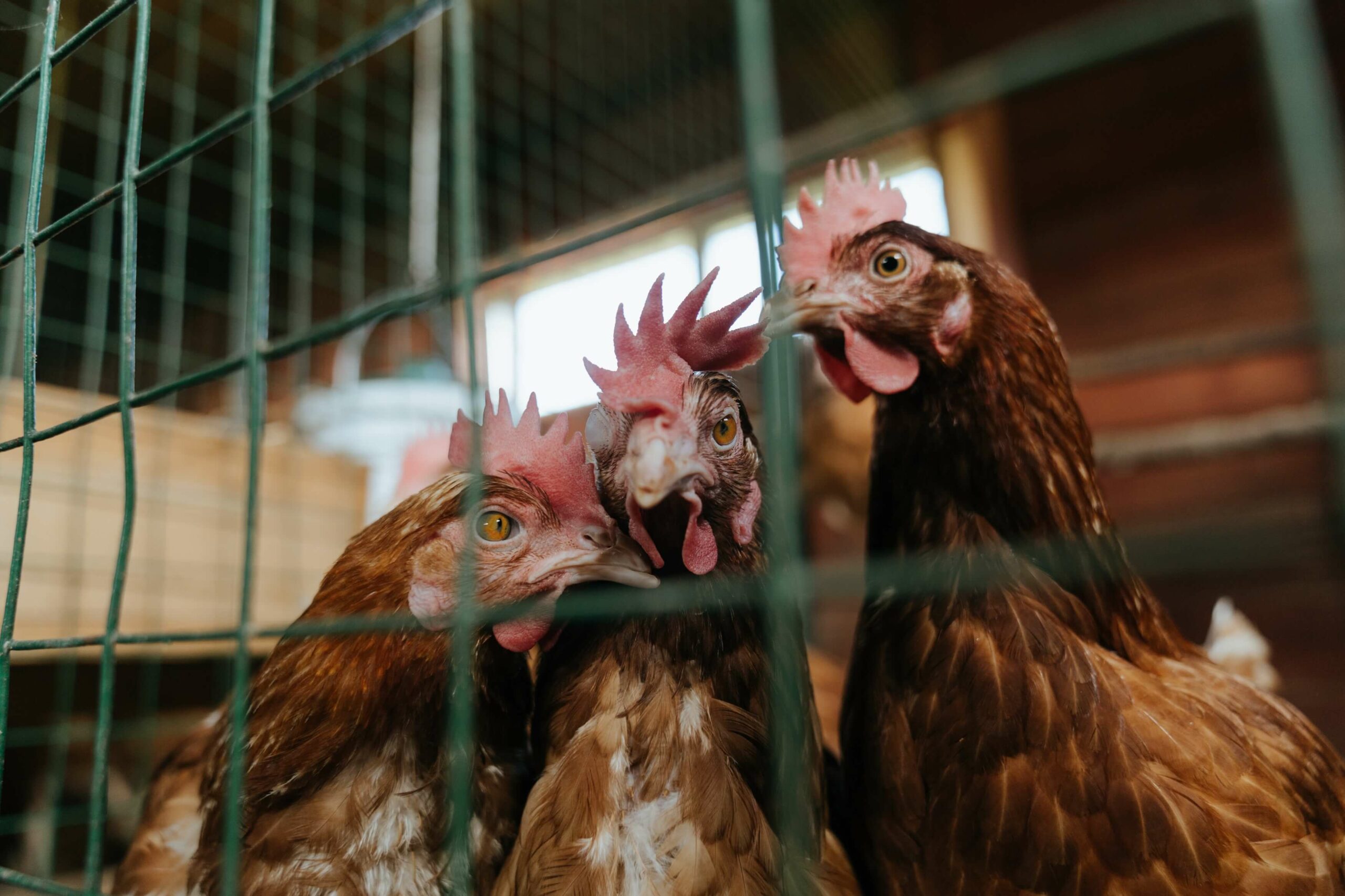 In a social enrichment program, chickens get to interact with each other. It's nice to be around other flock members. You can do this in a number of ways:
Create opportunities to forage together. A relatively large yard is an ideal location for chickens to forage for food and bond with one another.
There are also owners who place mirrors and play recordings of chicken sounds. Mirrors provide fun in a way that allows them to see themselves, interact with their reflection, and see other chickens.
House chickens that have compatible personalities
Lastly, your chickens need to be able to dust-bathe together. Dust bathing is an important chicken behavior that helps keep their bodies and feathers clean and healthy. Dust bathing can help loose dirt from their bodies.
The one downside of social enrichment for chickens is that it can sometimes lead to aggression. If you have chickens, especially roosters, who are aggressive towards one another, fight, or draw blood, then it is best to separate them as soon as possible. They should always have the opportunity to socialize, but their safety should be the top priority.
Nutritional Enrichment for Chickens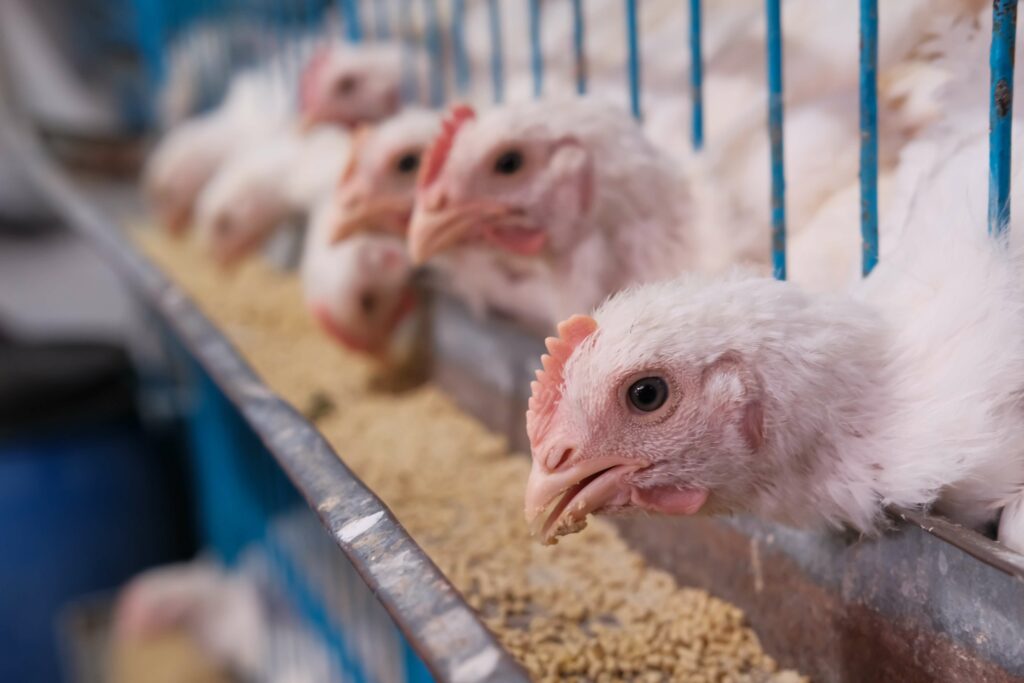 Nutritional enrichment is about providing chickens with a nutritious diet. Chickens need a balanced diet to stay healthy. Here are some ways to provide nutritional enrichment:
Look for foods high in protein, vitamins, and minerals and low in fat.
Feed chickens with natural foods like mealworms, insects, and scraps. You may also want to buy feed, scratch, and grit if it's not an additional cost for you. Grit is a safe substance that chickens ingest to help them grind up their food.
Human foods like tomatoes, raisins, and mangoes make good treats, too! You can even feed your chickens chocolate, as long as it is not too much.
It is important that chickens have constant access to a poultry watering system at all times. Make sure to buy them a high-quality waterer and feeder. Healthy chickens are less likely to die young.
You can pair the nutrition enrichment of your backyard chickens with physical activities.
Putting their food in ball toys will give them mental stimulation as they work to extract the food. A safe mineral block is also an alternative. Mineral blocks are chicken bird toys that they can lick to get their daily dose of vitamins and minerals.
Other Enrichment Plan for Chickens
Other enrichments include visual, auditory, olfactory, tactile, and cognitive to stimulate chickens' natural gathering instincts. The benefits of these include keeping them active, alert, and in good health.
How to Build your Own Chicken Jungle Gym? (DIY Chicken Playground)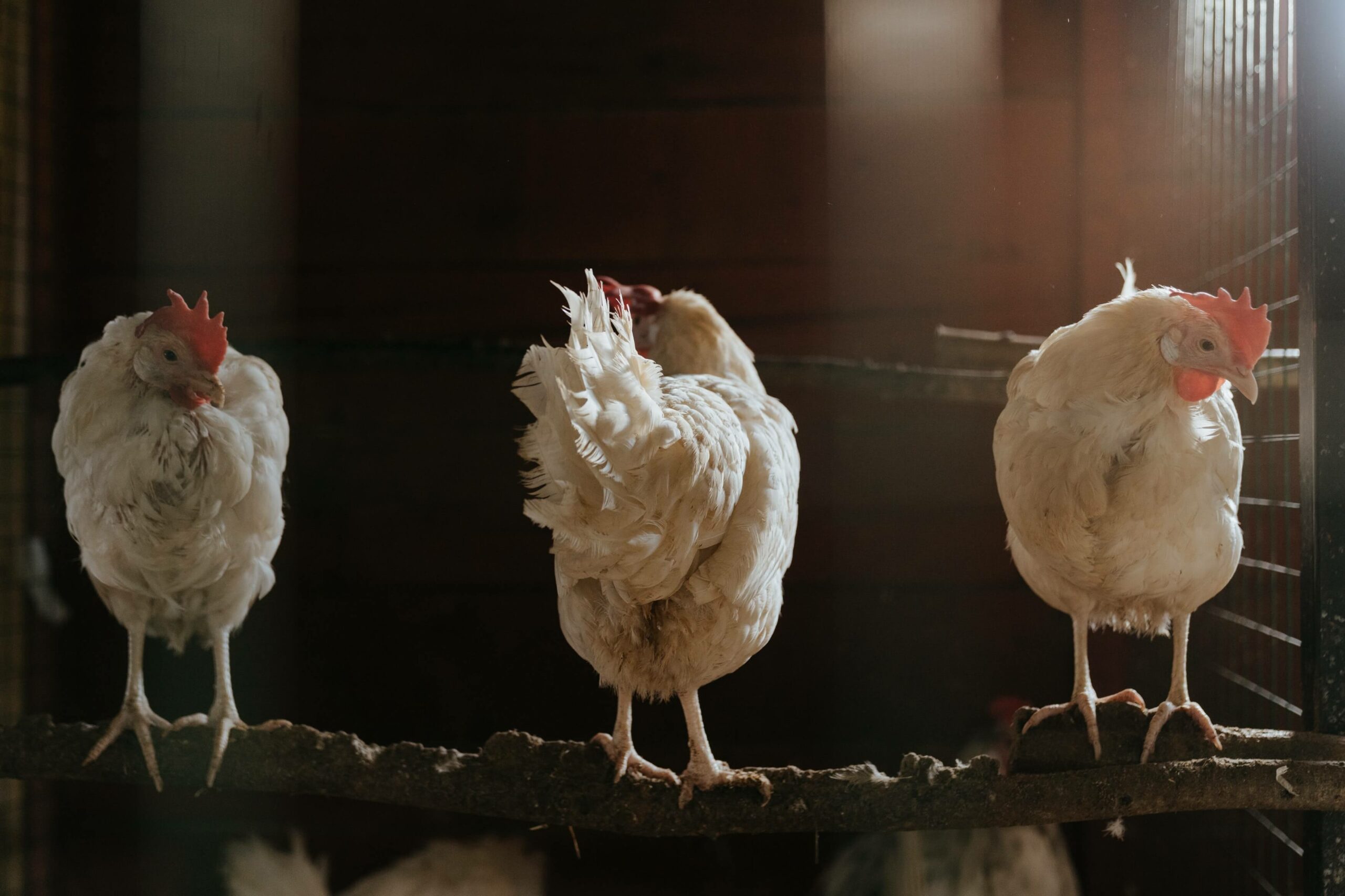 Building your own chicken jungle gym is a very simple project and inexpensive. In order to build a chicken jungle gym, first, you will need the following materials:
Wooden boards
Tree Branches (Plywood branches)
Scrap Timber
Screws
Saw and Drill
Cordless drill sander
Sander
Wire
Toys
Scrap board
Once you have gathered all the materials, you can start building the chicken jungle gym! This is a very simple project, here are the steps:
Choose a location for the chicken jungle gym. It should be in a safe area away from predators and hazards. In addition, it must be large enough so that they can enjoy it without restrictions.
Build the frame of the chicken jungle gym using wire and posts.
Put the tree branches or the plywood branches, timber.
You can add homemade swings and ladders or buy them in online stores. You can also paint the chicken jungle gym to make it more attractive and colorful. Paints will help to protect chickens from getting hurt or sick.
Others have tried building a chicken jungle gym using sticks, cardboard, plywood, timber, cardboard, and PVC. You can also make your chicken jungle gym more exciting for them by being creative. All of these enrichments are inexpensive and easy to build.
Can I Buy a Chicken Jungle Gym?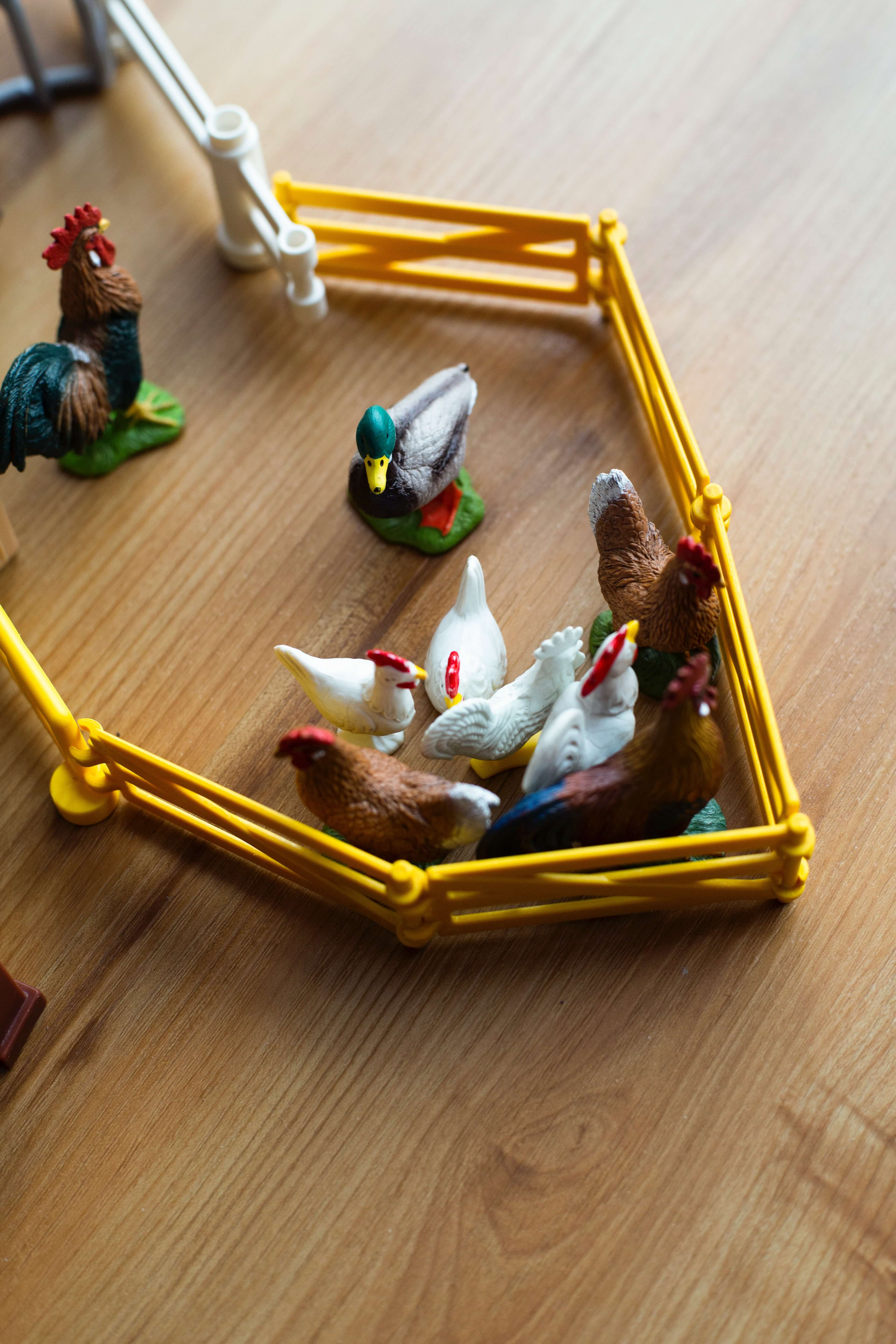 Yes, chicken jungle gyms are available for purchase. In any case, building your own chicken jungle gym is rewarding. Buying can cost you some money, so making and doing it yourself with scrap timber will save you money.
When choosing a chicken jungle gym, pick one that is safe and weatherproof. It is available in different sizes, so you can pick the one that best suits your coop and the size or number of your flock.
You can also find chicken jungle gyms on Amazon. Other companies sell chicken jungle gyms as well!
FAQs
Do chickens need toys?
Yes, chickens love to play with chicken bird toys like swings, balls, and mirrors.
What is the minimum height for a chicken run?
There is no definitive answer to this question, as chicken runs can come in all different shapes and sizes. However, a minimum height of 3ft is generally recommended. This allows the chickens plenty of space to move around and also helps to keep predators out.
You can put a variety of things in a chicken run for a play. This can include toys, balls, and other objects that will entertain the chickens and keep them occupied. You may also want to include some food items or treats, such as grain or seeds so that they can have something to eat while they are playing.
Final Thoughts of the Chicken Jungle gym playground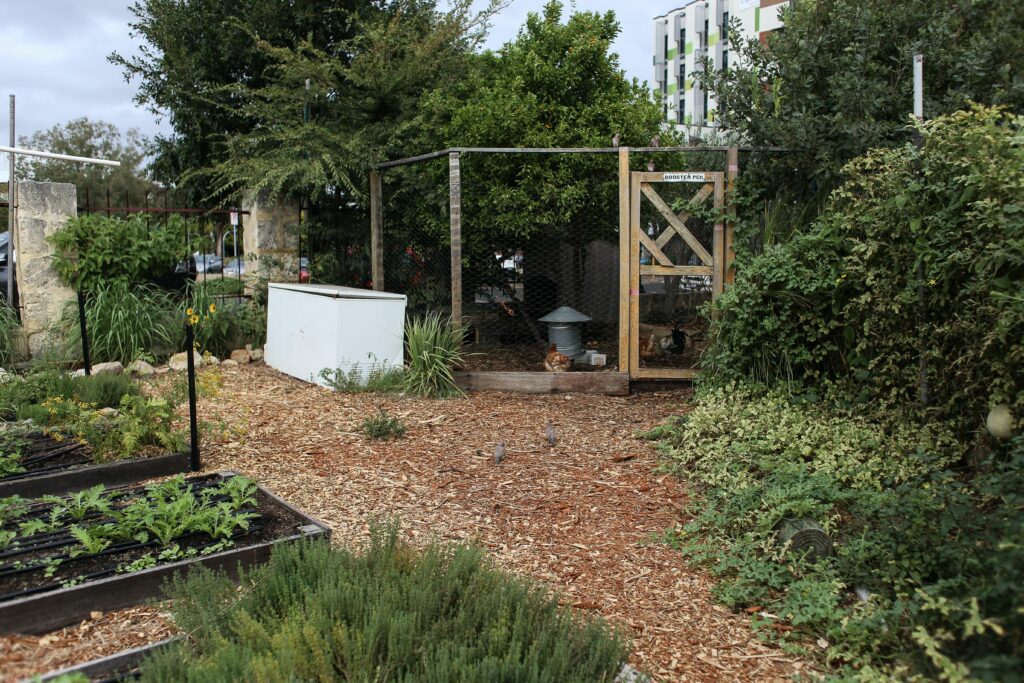 Making your chickens safe and happy should be your top priority. A backyard lacking social activities can lead to death and sickness.
Chicken jungle gyms are great ideas to keep them engaged and occupied. It provides them with healthy enrichment and a place to learn more about their natural skills. Again, chicken jungle gyms are available for purchase, but you can also build your own using safe materials. A chicken jungle gym is a great project to start off for your flock!